Officer Ranks
--------------------------------------------------------------------------------------------------------------------------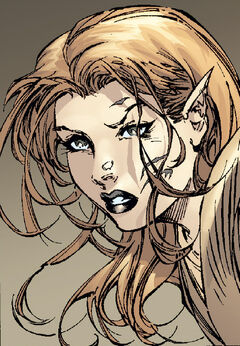 Supreme Commander
''The best and clever there is, this is the highest to achieve. There is a possible chance when the Supreme Chancellor is dead, The Commander always takes his place''
-Revena Nariem
General Of The Army
''A reserved rank for the best of four Generals, this rank is only given during major wartime. This is the second highest possible rank in the military, minus Supreme Commander.''
-
General
''Only one rank below the Supreme Commander, The General's have high privilege in the Army and usually act as the advisors of the Supreme Commander and overseers of fresh meat.''
-
-
-
-
Lieutenant General
"These men are second-in-command of the army in the battlefield. They are subordinates to the General."
-
-
-
-
Major General
"The Major General is one rank below the Lieutenant General. The Major General is the highest permanent rank during times of peace. They are subordinates to the Lieutenant General, so they follow the Lieutenant General's orders."
-
-
-
-
Brigadier General
"Brigadier Generals are generals who command groups of soldiers in brigades, or groups of 3,000 to 5,000 soldiers."
-
-
-
-
Major
''The rank above Captain; these are men who have shown great honor and discipline in war and have gotten weary of leading a squad into battle. Only on occasions, will a Major enter a battlefield''
-
-
-
Captain
''You have began your journey as the leader of a Special Ops Squad, Your path has began dangerous but you are always ready to rip flesh''
-
-
-
-
1st Lieutenant
''The second-in-command of a squad, this full fledged officer strives to become a Captain one day.''
-
-
-
2nd Lieutenant
''The lowest officer rank, Usually these are the graduates of the officer training''
-
-
-
-
Enlisted
--------------------------------------------------------------------------------------------------------------------------
Sergeant Major
"The highst NCO rank, responsible for standards and dicipline. Also oversees the supply of munition, other suplies and lots of administrative work."
-
-
-
Staff Sergeant
''Usually veterans that have seen their share in war. These are usually quartermasters''
-
-
-
-
Sergeant
''Sergeants assist Lieutenants in leading a platoons. They are usually the backbone of any army''
-
-
-
-
Corporal
''The Corporal is tasked with leading an infantry into battle''
-
-
-
-
Lance Corporal
"The Junior version of the Corporal rank. When a section is devided, the lance corporal assumes command of one part."
-
-
-
-
-
Private First Class
''The senior rank of Private. This is when privates can prove themselves worthy''
-
-
-
-
Private
''The lowest rank a soldier can achieve''
- Hank Downes
-
-
Recruit
''Not officially in the military yet, these times are when a person has to over go many tests and deem their worth''
-
-
-
-
''Usually soldiers or officers who have been sent on a mission and never returned due to unknown reasons''
-
-
-
-
-
-
Killed in Action
''Veterans who have been killed in action for the future result of the Republic''
-
-
-
-
Squads
''Lead by the 1st Lieutenant and the Captain. There will only be two leaders and 5 members per squad''
Renaissance Squad
-Captain Sylvain(Me)
-Lieutenant (?)
-Member(Join IC)
-Member(Join IC
-Member(Join IC)
-Member(Join IC)
-Member(Join IC)
Other Squads(Post them)
Last edited by Firewolf on Sat Jul 16, 2011 8:54 pm; edited 1 time in total
Admin




Posts

: 105


Join date

: 2011-07-16


Age

: 24


Location

: In Mope's pants



---
Permissions in this forum:
You
cannot
reply to topics in this forum